The Little League® Umpire uniform is unique. Unlike other Little League volunteers, umpires typically chose to officiate games after being involved at the local or district level in other capacities. However, there are those individuals who have reluctantly joined the umpiring fraternity after being approached by a manager or league official to officiate games because there was no one else available.
In whatever manner a person becomes an umpire, those who embrace the craft and continue to volunteer in this most critical role, will want to look the part. The wardrobe varies in many ways depending on budget, preference, and league specifications.
Use this checklist of essential items to complete your umpire attire and stock your equipment bag. Visit the Little League online store to shop for several of the items on the checklist.
Shoes (1)
The base umpire is to wear comfortable "low top" sneakers with rubber soles, or turf shoes with rubberize cleats (solid black, or black and white). The plate umpire is strongly encouraged to purchase "plate shoes" with steel toes and rubberized cleats (solid black, or black and white). A "low top" or "high top" plate shoe is personal preference.
Socks
The plate and base umpire are to wear black, breathable athletic socks.
Pants (2)
Heather gray pants come with or without pleats. The pants are to be long enough to completely cover the ankle for base umpires; and cover the back of the shoes for plate umpires. Pants with cuffs are a personal preference.
Belt (3)
A black, sheen satin (shiny) or regular leather 1 ¾-inch vinyl belt is recommended for both plate and base umpires.
Shirt and Patch (4)
Umpire shirts come in a variety of colors and styles. The standard Little League Umpire shirt is black with a white stripe on the collar and sleeves, and a left breast pocket. The colors are decided by your league's or district's Umpire-In-Chief. All shirts should have the official Little League Umpire Patch placed four inches below left shoulder seam on a set-in sleeve.
Hat (5)
The plate and base umpire(s) are to wear a hat on the field at all times and are encouraged to wear a clean, unstained and "blocked" umpire hat with a 2-inch brim. The plate umpire is never to wear the hat backwards.
Undergarments
Always be prepared to go behind the plate by wearing a moisture-wicking full-length athletic pants over top of your athletic supporter and under your plate pants. The undershirt is to be black with no logos. Again, whether on bases or behind the plate, it is recommended to wear a moisture-wicking shirt (long or shirt sleeve depending on temperature), or a cotton shirt.
Equipment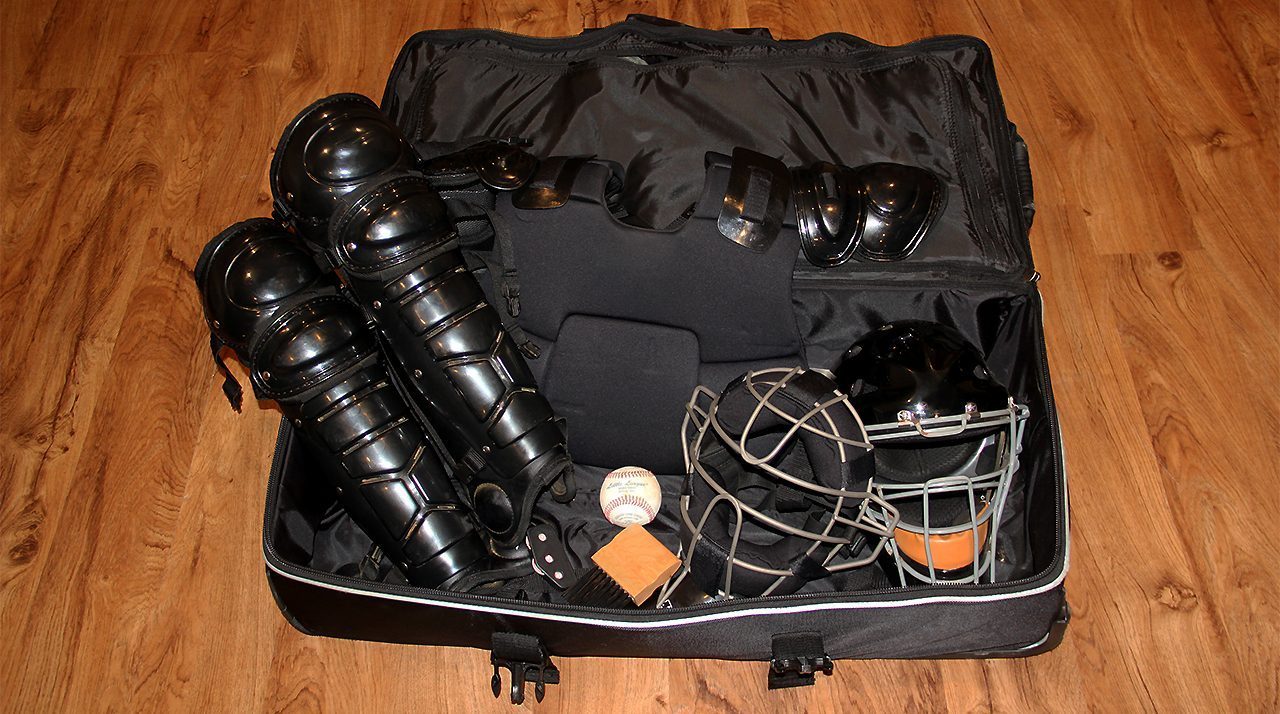 Every umpire will use standard equipment to officiate games. Often local leagues will provide this equipment, while more experienced umpires will annually budget to purchase their own equipment, a few items at a time.
Pitch Indicator – The plate umpire and base umpire(s) are to have, and use, a pitch indicator during the game. All pitching indicators (made in plastic and metal models) keep track of balls, strikes, and outs. Some versions also track innings.
Lineup Book/Wallet – Each team is to provide a lineup prior to the start of the game. Once the plate umpire reviews the lineups, they are official. The lineups accepted by the plate umpire are placed in a small book that he/she keeps on him/her for the duration of the game.
Ball Bag(s) – The home plate umpire will use a ball bag or two (one each side) that attach to the belt. The bags are to be black cloth and large enough to hold three baseball or two softballs without the balls falling out when the umpire moves during the game.
Plate Brush – The home plate umpire will use a small, course-bristle brush to clean the plate between innings, after plays at home plate, or as the need arises. The brush is to be small enough to fit in the back pocket of the umpire's pants or in a ball bag. The base umpire(s) are also recommended to carry a similar brush to clean off a base or the pitcher's plate (if officiating a softball game.)
Red Flag – When officiating Little League Major Division baseball, and below, a red flag is necessary equipment for a base umpire. It is used to indicate when a base runner leaves the base prior to the pitch reaching the batter.
Protective Gear – 1. The home plate umpire will wear equipment under his/her pants that protect the shins and knees; and under the shirt to protect the chest, shoulders and torso. 2. An athletic supporter is to be worn by male umpires and is strongly recommended for female umpires to protect the groin area. Such equipment comes in many styles, and is a personal preference based on size and comfort. 3. The head gear for a home plate umpire can either be a conventional mask or hockey-style helmet. Again, based on fit and preference, the mask or helmet is designed to protect the face, chin, and neck. A dangling throat guard is optional, but recommended.
All pieces of the umpire uniform are to be kept in clean and pristine condition. Remember that an umpire who looks well-kept gives the impression of preparedness, authority, and competence. In a six- or seven-inning game, the umpire that takes pride in his appearance can easily earn the benefit of the doubt for a least two to three innings per game. The rest is up to you.