Character, Courage, and Loyalty. Those are the three words that have been at the heart of Little League® and continue to serve as the values of the program. For Mike Piscotty, father of Oakland Athletics' outfielder Stephen Piscotty, and his late-wife, Gretchen, these three words have resonated throughout their household since the day Stephen and his brothers stepped foot on the Little League field.
For Mr. and Mrs. Piscotty, the decision to get Stephen and his two brothers, Nick and Austin, involved in Little League was an easy one because of the kids' love for baseball. For the two parents, it was even more important to find a way to get involved with their sons as volunteers of the program and helped the family grow closer together as all three boys played in the program from Tee Ball through their 12-year-old playing days.
"As a parent, you want to find a way to be involved with activities with your children," said Mr. Piscotty. "In my case, my boys liked to play baseball and I enjoyed coaching, so it gave me the opportunity to spend hours with them and help teach them life lessons. What I love about Little League is that it gives you the opportunity to learn life lessons while understanding the importance of the game, the importance of character, and how the game can help you mold that character."
For Mr. Piscotty, there was never a dull moment as a coach with three sons in the Little League program, but he always managed to find a way to spend time with each of them, no matter what it took.
"When I look back, I spent a lot of time at the field with the boys," said Mr. Piscotty. "I remember the league would work with me to make sure I could manage three different teams at three different levels just to make sure I could spend time with my sons. I would bring three different jerseys and three different hats to the field and make three different lineups the night before. For me, the Little League fields is exactly where I wanted to be."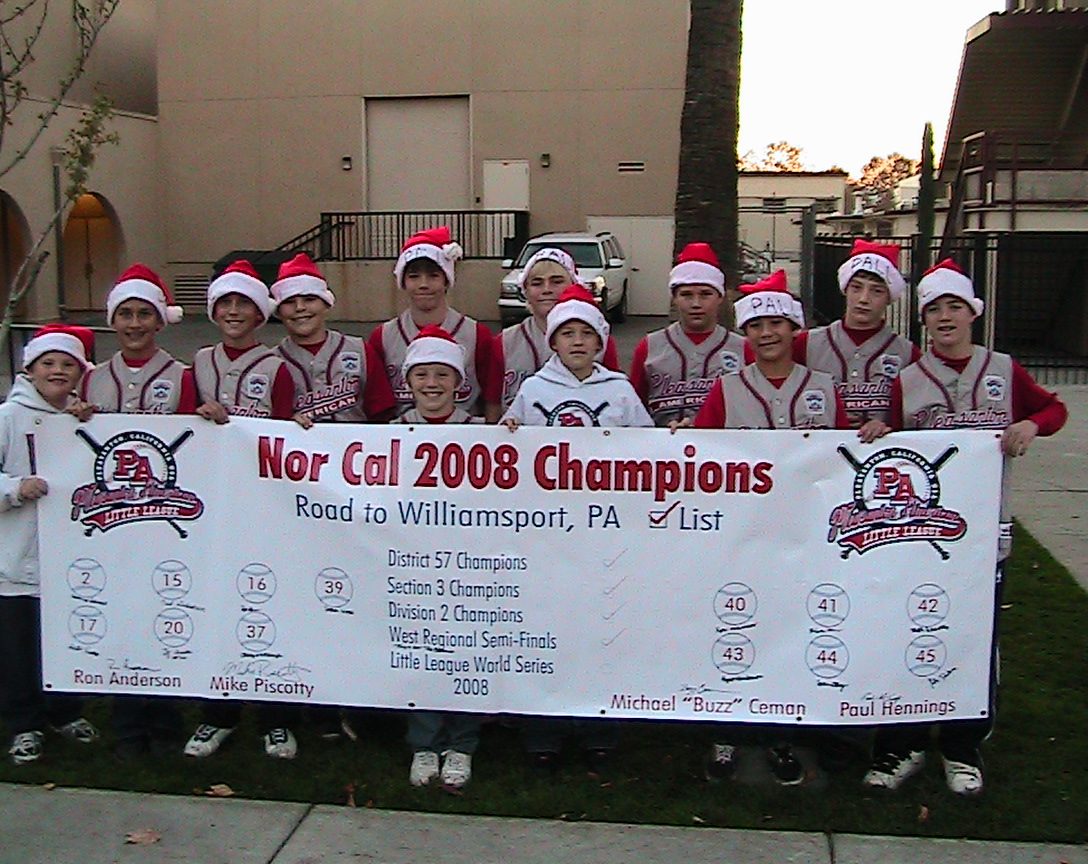 Volunteering became an important role in the Piscotty family during their time in both Livermore (Calif.) American Little League and Pleasanton (Calif.) American Little League where the boys played growing up, and because of their time, dedication, and values displayed during their time with Little League, Mr. and Mrs. Piscotty have been named the recipients of the 2019 George and Barbara Bush Little League Parents of the Year Award.
"Receiving this award means a lot to me and to Gretchen," said Mr. Piscotty. "We spent a lot of time working with Little League and it has been an organization very dear to our hearts. We are very humbled and honored to receive this award and hope us winning this award brings awareness to younger parents with girls or boys that are interested in the sport and look at the organization and understand it's more than just baseball. It's an opportunity to develop character in youth."
Following their Little League days, all three of the Piscotty boys went on to have success at different levels of their baseball careers, with Nick being drafted by the Royals after high school but chose a collegiate career at Duke, Austin being drafted by the Athletics after playing for St. Mary's College, and the most well known of the three, Stephen, making his MLB debut with the Cardinals in 2015 after playing at Stanford, and for Mr. Piscotty. For each of them, the lessons learned to make them who they are today all started in Little League.
"Baseball, Little League in particular, let's you understand how to handle adversity with character," said Mr. Piscotty. "Those are lessons learned early in a child's development. It sets the foundation not only for them as baseball players, but as men for the future. Baseball and Little League gives you a huge variety of choices and opportunities to teach life lessons that are important in development."
While their Little League careers may be over, it has become evident to Mr. Piscotty that those lessons were learned by each of their sons as they have played through the higher levels of the game.
"I remember watching all of my boys play as they became older and saw how they would interact with the young players during Little League days at their college games and in the minors," said Mr. Piscotty. "My favorite pictures are when they're signing autographs for young kids. It's important for them to know they were there at one point. As players, they all seem to be much more eager and willing to interact with the kids."
For Stephen, life in the Major Leagues has been a dream come true since he was originally drafted by the Cardinals in 2015, including an opportunity to play in the inaugural MLB Little League Classic, but the most impactful moment during his MLB career came in 2017 when the Cardinals agreed to trade him to the Athletics to allow him to return home and be just a short drive from his mother who was battling ALS, also known as Lou Gehrig's Disease, at the time.
"I've been an A's season ticket holder and fan for 25 years, so to have him come to his home team was great, but clearly what was the most touching was that when the Cardinals traded him, they sent him home," said Mr. Piscotty. "That was a big deal for us."
Gretchen Piscotty's battle with ALS ended in May 2018, just months after Stephen returned home to play for the A's, but her legacy will continue to live forever as Mike, Stephen, and his two brothers have gone on to start a non-profit special project fund known as the ALS CURE Project to support breakthroughs in ALS treatment and the search for a cure. As a testament to his character and effort to help others through this cause, Stephen was even most recently named the recipient of the 54th annual Hutch Award, as well as a variety of other awards and honors.
"There are a lot of organizations trying to optimize their particular work with ALS through fundraising, but we are trying to cure ALS, so for us, winning the World Series would be curing ALS," said Mr. Piscotty. "With this project, I want to try and take my coaching lessons and coach the organizations supporting ALS to find a way to work together as a team to come up with the win and cure ALS. That's something I learned as a coach Little League and is something I have used throughout my entire life."
For the entire Piscotty family, this journey through life is much more than what happens on the baseball field, but the friendships that they have created and all the lessons that helped create the foundation for who they have become all began in Little League.
"When you're playing in a community based program in the city you live, you develop these relationships with people you'll be with for a long time," said Mr. Piscotty. "Little League is consistent and community-based, and the relationships Gretchen and I have developed as well as the relationship the players have developed go on and on. Even some of the guys in Stephen's wedding are his 9-year-old Little League all-star team baseball buddies."
To learn more about the 2019 George and Barbara Bush Little League Parents of the Year Award, and all of the Little League Awards, visit LittleLeague.org/Awards.
Donations made during the opening days of the Little League Baseball World Series will also be provided to the ALS CURE Project, on behalf of Gretchen Piscotty.