All over the world, people dedicate countless hours to Little League® as volunteers. Every year, Little League is proud to recognize individuals for their dedication and commitment through the Little League Awards program.
Through the generosity of AIG, Little League gives out these annual awards to highlight the tremendous support and commitment of its volunteers. Each of this year's award winners will be recognized at on-field ceremonies during the Little League Baseball® World Series from August 15-25. Nominations for the awards are ongoing and are available at LittleLeague.org/Awards.
Volunteer of the Year: Howard Dickson
For nearly 50 years, Howard Dickson has continued to serve Little League® in order to provide players with the safest and most enjoyable experience possible, while also inspiring others to get involved. Mr. Dickson has served in a number of different roles, acting as a League Umpire-in-Chief and serving as a District Safety Officer. He is dedicated to being the best umpire he can be, attending various clinics and engaging with other umpires to learn more about the game.
Mr. Dickson began his career as a volunteer when his sons began to play Little League in 1970. He noticed one of the coaches needed help and decided to step in, and from there decided to start umpiring. He has since gone on to umpire in over 1,800 regular season games, at various divisional regional tournaments, Little League Challenger Division® tournaments, and even was selected to umpire at the Little League Softball® World Series in 2010. Today, at the age of 85, Mr. Dickson continues to serve as an umpire and as a volunteer on the California District 12 staff. Based on his dedication to Little League, passion for helping others, and his five decades of service, Howard Dickson has been named the 2019 Little League Volunteer of the Year.
Howard and Gail Paster Urban Initiative Volunteer of the Year: Carolyn Taggart
Carolyn Taggart has gone above and beyond to ensure that every player in Belvedere Little League and the surrounding area has the opportunity to play baseball since she began volunteering 40 years ago. Mrs. Taggart has played a variety of different roles in the league, acting as the Concessions Manager, the Senior League President, and the League President.
Throughout her time as a volunteer, Mrs. Taggart has shown tireless dedication to ensure the growth of her league. She has applied for and been awarded various grants to support the league's endeavors, including the Little League Grow the Game Grant. Not only has she shown a commitment to her own league, but to the betterment of the Urban Initiative as a whole. She hosted the first Urban Initiative Georgia Jamboree at Belvedere Little League, a tournament where other Urban Initiative leagues could play against each other and grow together. Based on her dedication to the Urban Initiative, motivation to help others, and the impact she has had on her community and beyond, Carolyn Taggart has been named the 2019 Howard and Gail Paster Little League Urban Initiative Volunteer of the Year.
Mom of the Year: Katie Kilar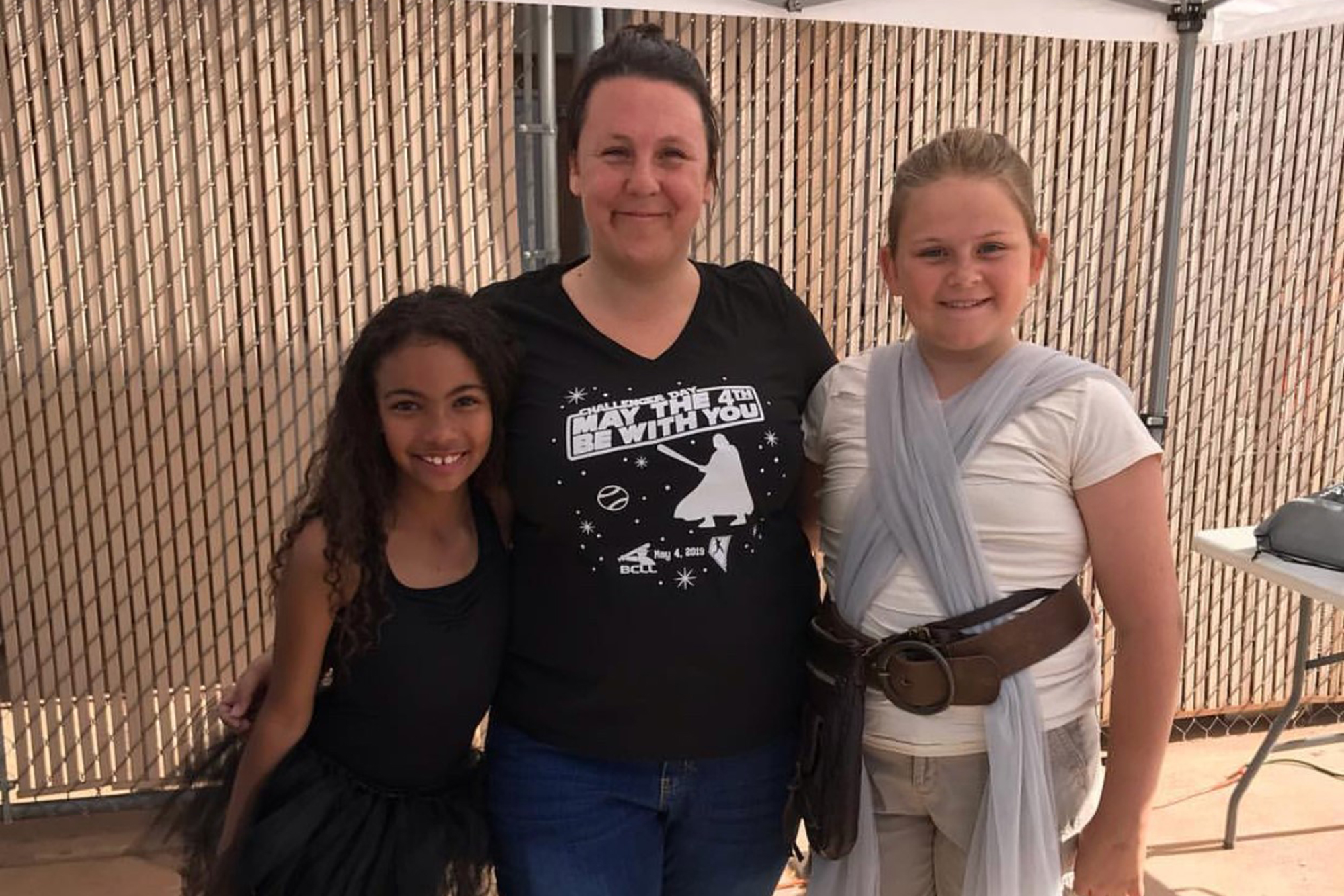 When Katie Kilar signed her kids up to play for Boulder City Little League, she never imagined that she would become one of the league's most instrumental volunteers and set a pivotal example for all the moms in the community. She began volunteering when she noticed areas of need within the community, and decided that if she wanted things to change, she needed to be a part of that change herself. She has since served as a Team Mom for each of her three kids' teams and has been League President for the past three years.
From hosting state tournaments at Boulder City's complex, to organizing Challenger days and helping plan fundraisers, Mrs. Kilar has been an integral part of the league's growth. She has worked tirelessly to make impactful changes for the players of the league. This year, she was able to work with a neighboring league to establish a softball program in their district to make sure the girls in their community had a chance to play. This year, the softball program had five teams across the two leagues and continues to grow. Based on her dedication to serving the community, commitment to her own children, and the tireless hours she has put into this organization, Katie Kilar has been named the 2019 Little League® Mom of the Year.
Good Sport of the Year: John Griffin III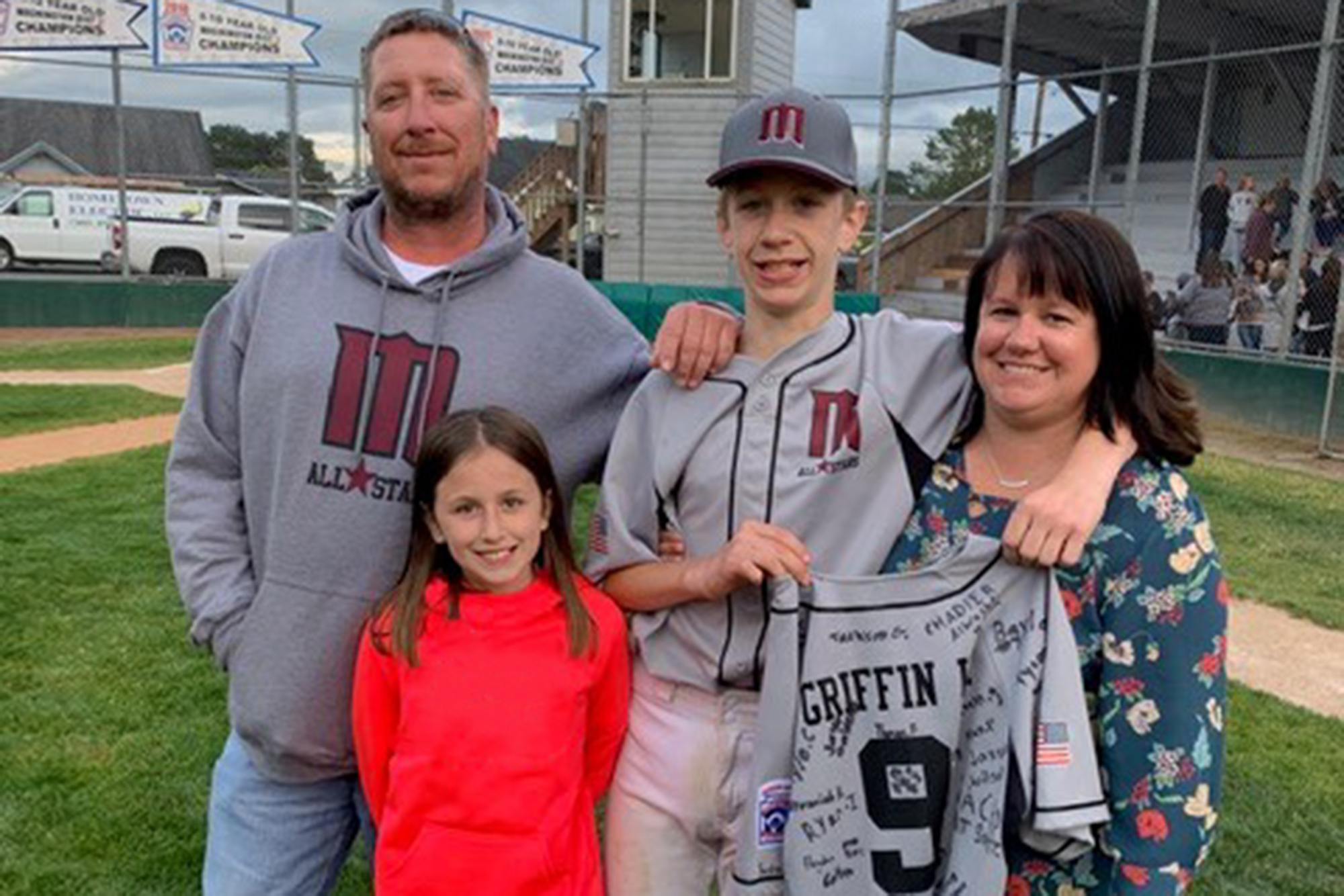 Despite not liking baseball at first, Washington State Little Leaguer John Griffin III quickly fell in love with the game when he joined Montesano Little League and has since become one of the biggest inspirations throughout his community. This past February, John was diagnosed with malignant melanoma, and despite the devastating news his positive attitude has continued to ripple through the league.
Although he is in treatment, he has remained a regular fixture at the baseball field, never missing a practice. Currently playing in the Junior League Division, John also helps out coaching kids in the league's Tee Ball program and continues to motivate players throughout the league with his optimism. Following his diagnosis, John qualified for the Make-a-Wish application and, without hesitation, he immediately knew what he wanted his wish to be. It wasn't meeting his favorite celebrity. It wasn't going to the World Series. What he wanted the most was to have a new indoor complex built for Montesano Little League to make sure his teammates had a place to practice and get together year-round. Based on his selfless actions, his dedication to the values of the Little League program, and his respect and influence on everyone within his community, John Griffin III was officially named the recipient of the 2019 Little League Good Sport of the Year Award.
Challenger Division Volunteer of the Year: Mary Lou Davis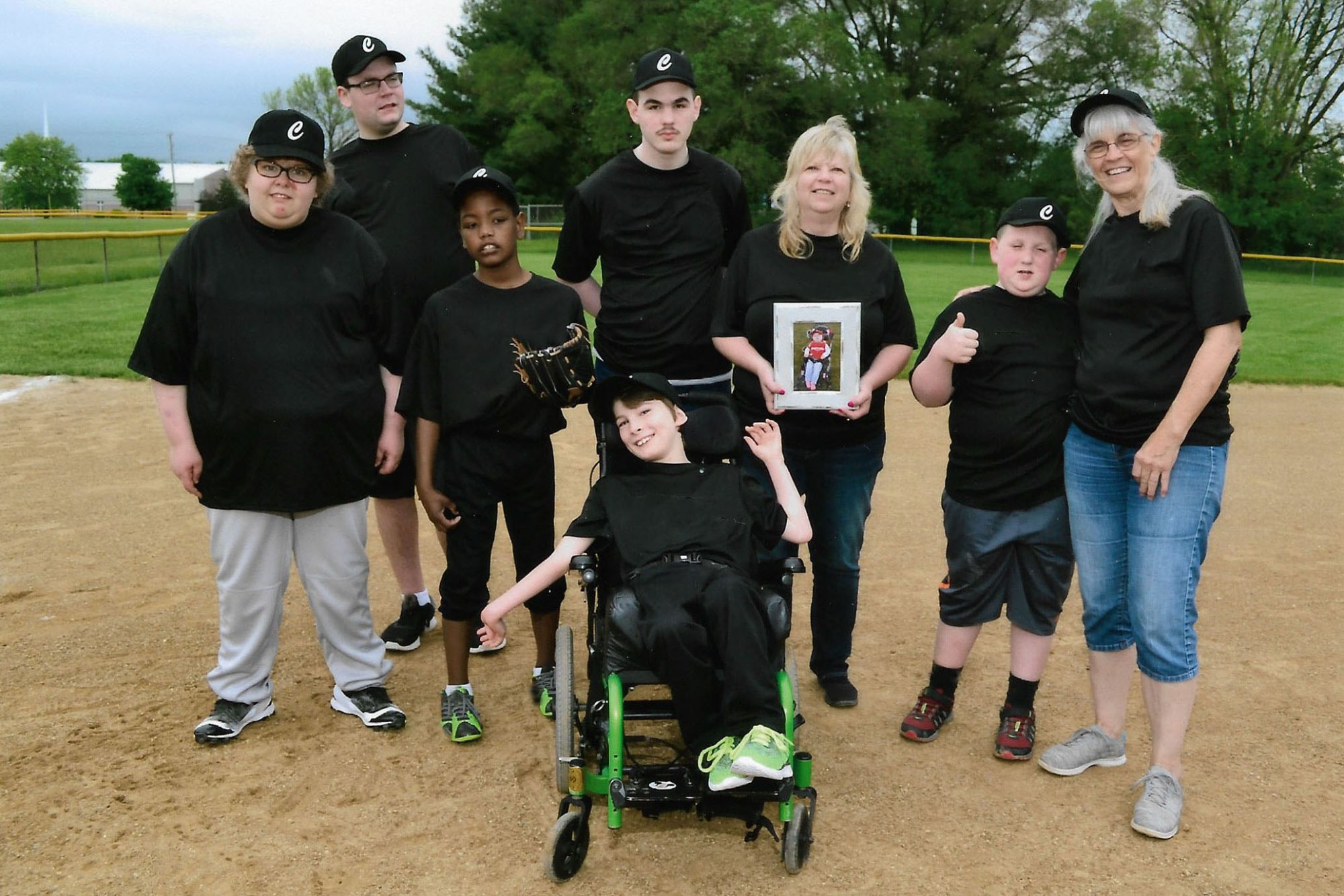 When Mary Lou Davis began coaching her children in Little League, she anticipated being involved until her children aged out. Now, more than 30 years later, she has not only remained involved as an active volunteer but has led the charge to grow the Little League Challenger Division in Indiana. Mrs. Davis served as a coach for her children and as League President of Osceola Little League before beginning to volunteer with the Challenger Division.
Since she started, Mrs. Davis has made incredible improvements to Indiana District 14's Challenger Division. As a former teacher, she knew she had the resources to reach out to local children who might have been interested in the program and began to spread the word in any way she could. She has grown the program from two teams to eight teams, has recruited countless volunteers, and organized and executed the Little League Central Region Challenger Jamboree. In 2011, her league traveled to Williamsport to play in the Little League Challenger Division Exhibition Game, a once-in-a-lifetime opportunity for everyone involved. Based on her passion for helping others, her dedication to her league, and her determination to make a difference, Mary Lou Davis will be named the 2019 Little League Challenger Division Volunteer of the Year.
Softball Volunteer of the Year: Andrew Bergman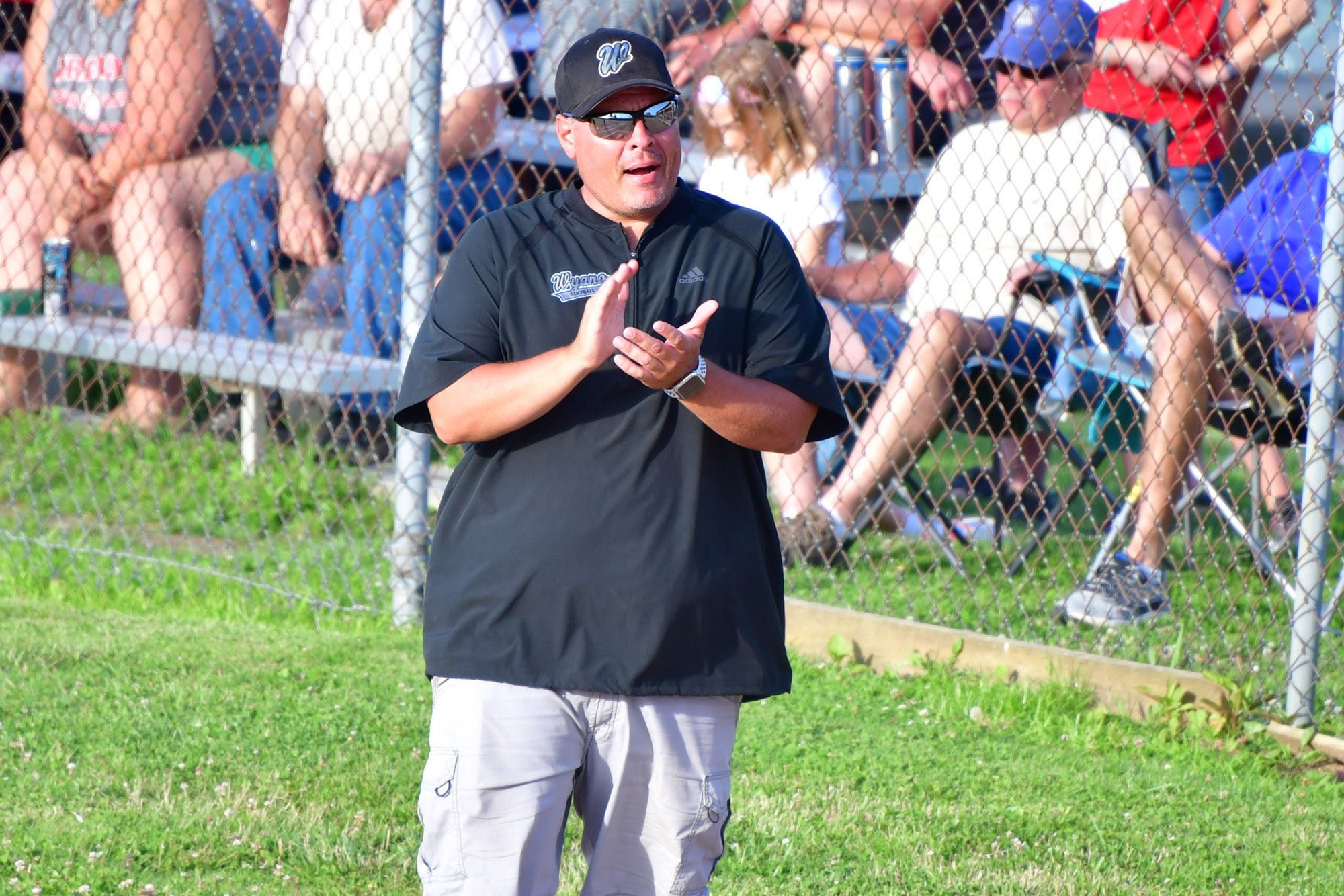 Andrew Bergman has been volunteering with Yough Little League in Pennsylvania for the past five years, but his involvement with the league goes back to his own days as a Little Leaguer®. When Mr. Bergman had daughters of his own, they began to play Little League. When they started playing, he began volunteering. He started a softball team when he noticed a huge void in the program and began to volunteer anywhere he saw a need for improvements, singlehandedly leading field and complex renovations to build up the program in any way he could.
Mr. Bergman applied for multiple different grants and was awarded $70,000 to renovate Yough Little League's complex, including support from the Little League Grow the Game Grant to install lights at the field. With these grants, Mr. Bergman was able to bring new dugouts and bleachers, build running bathrooms, renovate the fields, and make their park handicap accessible. Additionally, he and the Board of Directors worked with the league's various sponsors and supporters to develop a plan to allow free registration for all players by offsetting various costs. His hope is that every child will get to have a positive experience through Little League the same way that he did. Based on his dedication to Little League, his role as a positive influence in his community, and his motivation to make a difference, Andrew Bergman has been named the recipient of the 2019 Little League Softball Volunteer of the Year Award.
To learn more about the all of the Little League Awards, visit LittleLeague.org/Awards.