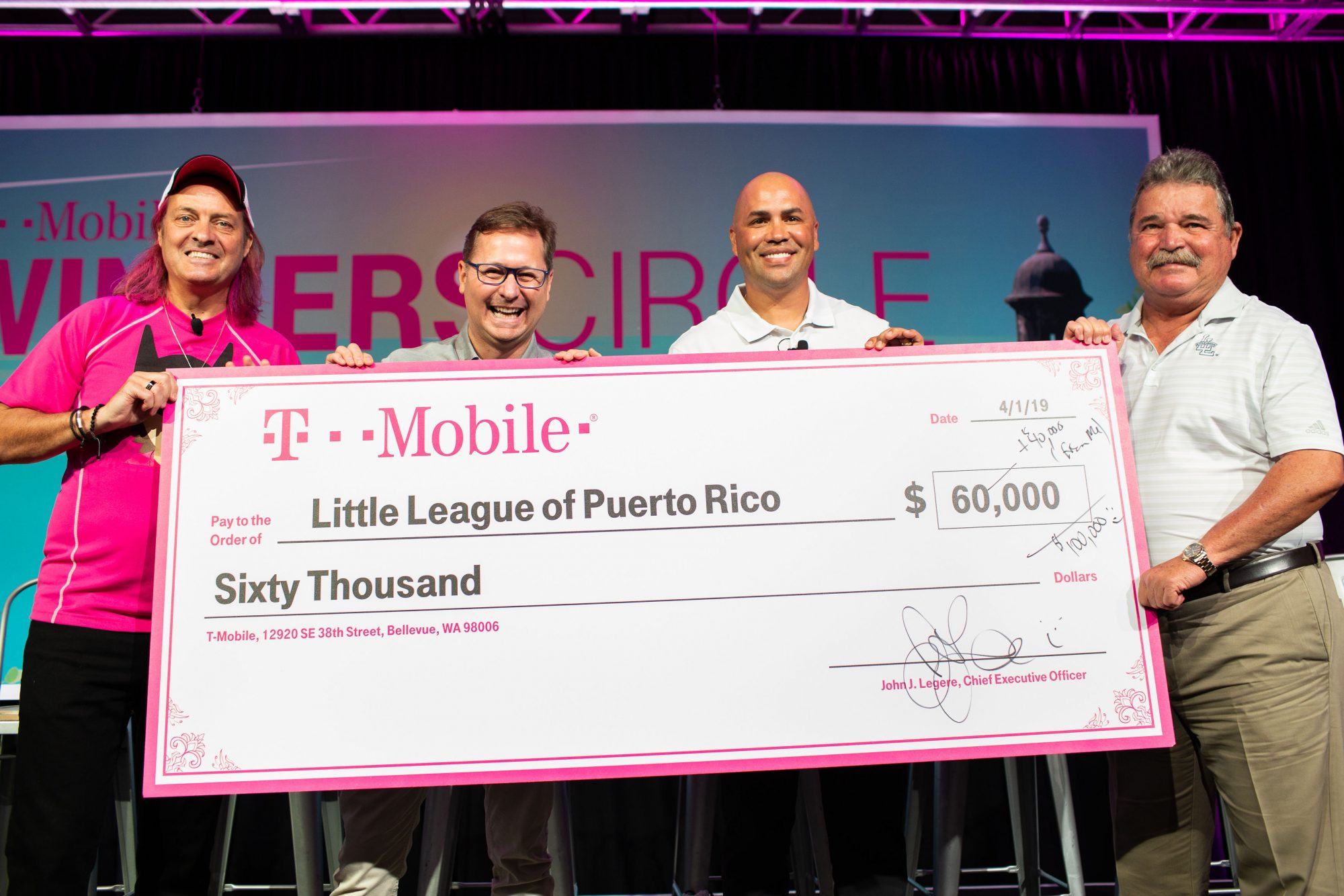 On the heels of T-Mobile becoming the Official Wireless Sponsor of Little League® International, the two have teamed up to announce the first-ever T-Mobile Little League Home Run Derby. Starting today, leagues from around the country can begin conducting local qualifying competitions to identify the top youth long-ball hitters for both baseball and softball.
"Little League is proud to partner with T-Mobile, and we're grateful for the strong support they have provided to our leagues in Puerto Rico, as we kick off this new partnership," said Stephen D. Keener, Little League President and CEO. "For years, Little Leaguers have been captivated by MLB's T-Mobile Home Run Derby, watching amazing performances from the stars of the game, like from our own Little League Baseball World Series Champion, Todd Frazier. With the establishment of the T-Mobile Little League Home Run Derby, our baseball and softball players will have the opportunity to hit long balls with their friends, bring excitement to Little League fields around the country, and perhaps end up in Williamsport during the Little League Baseball World Series for the championship. We're looking forward to working with T-Mobile, as they help us support the big dreams of our millions of players around the world."
Plus, the Un-carrier has already stepped up to the plate – T-Mobile and CEO John Legere recently donated $100,000 to support three local leagues in Puerto Rico rebuilding from the recent hurricanes.
"I've seen Puerto Rico's resilience firsthand and feel passionate about this tremendous community. T-Mobile stepped up in a major way, but I wanted to do more – that's why I added to our donation to make it an even $100,000 for three local leagues," said John Legere, T-Mobile CEO. "Youth programs play a big role in rebuilding communities, and we're all-in – and excited to introduce the first-ever T-Mobile Little League Home Run Derby!"
T-Mobile Little League Home Run Derby
Coming out of the qualifying competitions for local leagues, the top ten performers from each of the East and West Regional standings will face off in the Regional Finals at select Major League Baseball (MLB) parks in July. From there, the final eight baseball and final eight softball hitters will compete in the T-Mobile Little League Home Run Derby championship in August in Williamsport, Pa. To extend its support, T-Mobile will provide baseballs, equipment bags, and ball buckets to all participating leagues.
LEARN MORE ABOUT THE HOME RUN DERBY

Little League baseball and softball participants will be broken out into the following regions:
East Region
Region 1: Connecticut, Maine, Massachusetts, New Hampshire, Vermont, Rhode Island
Region 2: Alabama, Florida, Georgia, North Carolina, South Carolina, Tennessee, Virginia, West Virginia
Region 3: Illinois, Indiana, Kentucky, Michigan, Ohio, Wisconsin
Region 4: Delaware, Maryland, New Jersey, New York, Pennsylvania, Washington D.C.
West Region
Region 5: Iowa, Kansas, Minnesota, Missouri, Nebraska, North Dakota, South Dakota
Region 6: Arkansas, Colorado, Louisiana, Mississippi, New Mexico, Oklahoma, Texas
Region 7: Alaska, Idaho, Montana, Oregon, Washington, Wyoming
Region 8: Arizona, California, Hawaii, Nevada, Utah
Supporting Little Leagues in Puerto Rico
Only two years removed from the devastation of Hurricanes Irma and Maria, local Little League programs throughout Puerto Rico continue to struggle to rebuild and get their fields back to playable conditions. To help some of those local leagues in their efforts, T-Mobile recently provided the following leagues with a total of $60,000 in grants, plus an additional $40,000 from CEO John Legere, to assist with field repairs, maintenance, and additional rebuilding efforts:
Luis Llorens Torres Little League (San Juan, Puerto Rico)
Roberto Oller Little League (San Juan, Puerto Rico)
Toa Baja Little League (Toa Baja, Puerto Rico)
Along with representatives from T-Mobile and Little League International, former nine-time MLB All-Star and 2013 Roberto Clemente Award winner, Carlos Beltrán, who played for Jose Maria Rodriguez Little League in Manati, Puerto Rico, was on site to present the check for the three leagues. Some of the efforts to renovate the fields include installing new fencing, painting existing fencing and structures, creating new dugouts, fixing stands, and updating lighting around the fields.
This relationship with T-Mobile comes in addition to their four-year extension with MLB and marks the first opportunity as part of the recently announced joint sponsorship agreement with MLB and Little League Baseball and Softball.